A feature in which I share new books I added to my TBR.
This is a lovely little feature in which I update you on books I've recently added to my TBR! It's a chance for me to tell you about books I discovered that piqued my interest and that I am genuinely excited to get to. One day. Soon. Let's jump into it!
1. The Women's War by Jenna Glass
Why I added it: This is a feminist epic Fantasy release and it sets off a new series! After a spell that allows women control over their own fertility turns their patriarchal society on its head, two women find themselves at a crossroads. I've been looking for a more female-centered Fantasy (most of my beloved Fantasy books are written by men and follow men, which is just sad), and this one looks perfect. I haven't seen many reviews for it yet, but I am excited to see if it's as good as it sounds. The concept is intriguing and there's magic, so that's all I need.
2. The Ruin of Kings by Jenn Lyons
Why I added it: This is another new Fantasy release and I added it to my TBR because I fell in love with the blurb. The story is about Kihrin, a bastard orphan who finds out that he is in fact a long-lost prince. Now the kicker of the blurb is why I think this is going to be brilliant – it says: "Then again, maybe he's not the hero, for Kihrin isn't destined to save the empire. He's destined to destroy it…". That's all I needed. On top of that this promises Brandon Sanderson's style of world building and Patrick Rothfuss' style of storytelling and if you know anything about me, I love both of them specifically for those traits. So I have really high hopes for this!
3. Twelve Kings by Bradley P. Beaulieu
Why I added it: Okay, so this one is on my TBR because it was chosen specifically for me. Recently, I got a subscription to Willoughby Book Club (which I did a review for HERE) where they hand pick books for you based on your personal taste. So I don't know much about this one, except for the fact that it's set in a world where twelve immortal, cruel kings rule, until a girl decides to defy one of their rules. By doing so, she uncovers some dark truths and I guess starts a revolution. All I know is that I am supposed to like it and that I love the cover, and that's usually more than enough for me. Plus, I really appreciate the fact that I got a Fantasy I haven't heard of before.
4. All Systems Red by Martha Wells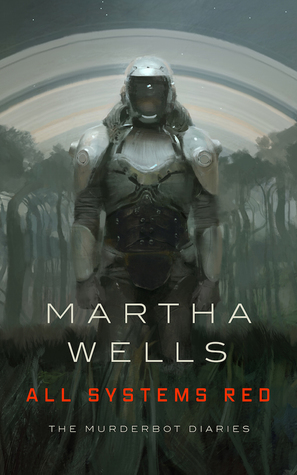 Why I added it: This one is super popular in the community and I know Elise loves it, and she is never wrong basically. This is a series of novellas I believe and it follows a self-aware robot who refers to itself as Murderbot which just sounds brilliant. Murderbot hates humans and just wants to be left alone so it can figure out who it is and honestly that's my whole mood so I already stan. I think this is going to be beyond fun and engaging, but I am also hoping it tackles some larger subjects and themes, so I it's safe to say I have really high hopes for it, and I think it's going to live up to them.
5. Serpent & Dove by Shelby Mahurin
Why I added it: And we're signing off with another Fantasy which is always a nice note to end on. Now you might look at this and think that this was a total cover-add and you would be correct. I find the cover of this to be stunning and the YA snake is truly thriving. Anyways, I don't know a lot about this, but I do know that it has witches and that's one of my buzz words and I think it's basically a witch/witch hunter love story which is just everything I ever wanted. I have an ARC of this one and I am really looking forward to picking it up soon.
And those are some new books I added to my TBR recently! As always, I'd love to hear your thoughts on these and to hear about some new books you discovered recently!
xxx
Come hang out with me:
Follow me on Bloglovin' | Goodreads |Facebook| Tumblr| Twitter | Instagram|Pinterest
*Vectors graphics designed by Freepik