I have never talked about all my ARCs before. 
Okay, so I realized that I haven't shown you how many eARCs I have and what they are and that's mostly because I am embarrassed by the number of eARCs that are already published that I haven't read yet. I  harbor so much guilt when it comes to eARCs and the fact that I don't have the time to read all the ones I get, but that's a topic for an upcoming discussion post.
Since I'd rather not show all the ARCs in one post, I am just gonna talk about the ones that are yet to be released that I am excited to try and get to. I'll leave the shameful backlog for another post! Please let me know in the comments if this kind of post is interesting to you, because I'd love to do more of these if you like them. Also, I added a location of where each ARC is from, so you can get an idea of how many ARCs I get from Edelweiss and how many from Netgalley. Let's get into it!
1. Desert Sky Before Us by Anne Valente
Location: Edelweiss
Publication Date: 14th of May
I have heard fantastic things about Anne Valente, but this book mainly caught my interest because it's a story about two estranged sisters, one of which is a former racecar driver and the other a recently-released prisoner. The two of them embark on a road trip together to complete a treasure hunt their mother left them before she passed away. I love sibling stories, especially ones about sisters and I genuinely enjoy books that take a deep dive into a relationship between two characters, so I think I will really enjoy this one.
2. The Wise and the Wicked by Rebecca Podos
Location: Edelweiss
Publication Date: 28th of May 
This one sounds super interesting. It's a story about a witch family of Russian descent where throughout history, the women of the family started losing their powers, but they have one remaining – they all get a vision of their own death, which always matches reality. The story follows Ruby, after her great-aunt's death doesn't match her vision, as she uncovers the secrets of the family. This also has queer rep in it and I think it's gonna be really amazing.
3. Frankissstein by Jeanette Winterson
Location: Netgalley
Publication Date: 28th of May 
I've always wanted to read Jeanette Winterson and I think experiencing her writing through a retelling of Frankenstein, but also Marry Shelly's own life is the perfect opportunity. This story is set in Brexit Britain and follows a young transgender doctor who falls in love with Victor Stein, who is a celebrated professor that is leading the debate around AI. I don't know much more than that, but I love retellings and I especially love these sort of futuristic ones that are also political commentary novels, so I am really excited to dive into this one.
4. The Beholder by Anna Bright
Location: Edelweiss
Publication Date: 4th of June
This is a new YA fantasy that is described as two things, and both are brilliant. On one hand we have a The Odyssey meets Cinderella comparaison, which is all I ever wanted. As if that weren't enough, I also saw someone describe it as The Bachelorette meets Once Upon a Time and I was sold. Add the gorgeous cover to all that and you have me obsessively clicking the request button. And I got it! I am super excited to jump in!
5. The Exact Opposite of Okay 
Location: Edelweiss
Publication Date: 11th of June
This is a YA contemporary which I rarely gravitate towards, especially when I request ARCs, but I could not resist this one. The story follows Izzy after a video of her and a politician's son is made public, which leads to her whole town labeling Izzy as a slut. I love that this tackles the issues of female sexuality and how it is policed and how young girls especially are treated when they dare be sexual. I really am looking forward to this one and I think it's going to be incredibly powerful and important.
6. The Right Swipe by Alisha Rai
Location: Edelweiss
Publication Date: 2nd of July
Alisha Rai is one of my favorite romance authors ever. She is amazing at writing smart, diverse, sexy romance novels, and she has a great knack for writing consent really well. The story follows Rhiannon Hunter, a young businesswoman behind one of the most successful dating apps and an ex pro-football player who once ghosted her and now wants a second chance. I think this is going to be incredibly fun, and it's the perfect book for your summer reading list!
7. Kingdom of Soul by Rena Barron
Location: Edelweiss
Publication Date: 3rd of September
Another really exciting diverse Fantasy novel! This follows Arrah, who hails from a family of really powerful witchdoctors, but who has failed time and time again about bringing her own powers to the surface. However, when the world is at stake, Arrah must pay the price in order to get scraps of magic and help defeat The Demon King. I am so excited for this one and have such high hopes. Plus this cover makes me want to pick this one up RIGHT NOW.
8. Serpent & Dove by Shelby Mahurin 
Location: Edelweiss
Publication Date: 3rd of September
More dark YA Fantasy covers and book! I am also super excited to jump into this one since it's a witch/witch hunter love story! That's basically all I know and it's more than enough to get me beyond excited. Plus you know, the cover is a huge bonus.
9. Now Entering Addamsville by Francesca Zappia
Location: Edelweiss
Publication Date: 1st of October
This one sounds really amazing. I really enjoyed Zappia's writing and her characters in her previous novel, Eliza and Her Monsters, so I was really excited to see her new book and to see that is, in fact, a YA thriller. I have been looking to get into YA thrillers and this seems like an awesome opportunity. This is about a girl who is being framed for a murder in her small town, and the only way she can clear her name is by finding the actual killer.
10. Angel Mage by Garth Nix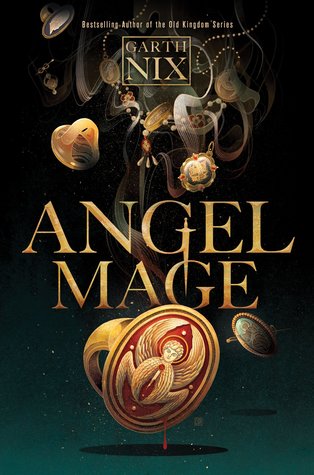 Location: Edelweiss
Publication Date: 1st of October
Angel Mage is the new release from Garth Nix and I have been dying to read one of his books, since all my friends are so excited and seem to love them. I don't know a lot about this one, except for the fact that it has all sorts of angelic powers and magic in it, and it's been a while since I've read a book with angels. I have high hopes for this one!
I'd love to hear from you! Do you request ARCs and how many do you currently have on your unread pile? I would also love to know if this kind of post is interesting for you, because I'd be more than happy to do more in the future if you want!

xxx
Come hang out with me:
Follow me on Bloglovin' | Goodreads |Facebook| Tumblr| Twitter | Instagram|Pinterest
*Vectors graphics designed by Freepik