The old saying goes "Don't judge a book by the cover" but that's what we are here to do. 
Every month, I pick some books with pretty covers and then I show the ones with best blurbs to you.
Basically, I spend a lot of time on Netgalley, and scouring the Internet for new releases, so I am gonna do that, but pick the books based on their cover. Then I'll read the blurbs and pick my favorites and then I share them with all of you!
So the basic formula of this post is pretty books meets new releases I am excited about. 
We love June because of two things: it's my birthday on June 1st and also there are going to be so many pretty covers as always. We are truly blessed.
1. Magic for Liars by Sarah Gailey
Release Date: June 4th
Why I love the cover: I think this cover is super fun and weird, which I love and it also has a really satisfying color scheme – I always love a pink/yellow combo.
Why I love the blurb: This one sounds really amazing – it mixes Fantasy with sort of noir murder mysteries and it's about a woman named Ivy whose estranged sister works at a magic school as a teacher of Theoretical magic. Ivy is an investigator, and when a murder happens at the school, Ivy is hired to investigate, and I guess she has to face her sister while also working on the case. This sounds really amazing, and I love books that do interesting things with genres, so I am really excited.
2. Mostly Dead Things by Kristen Arnett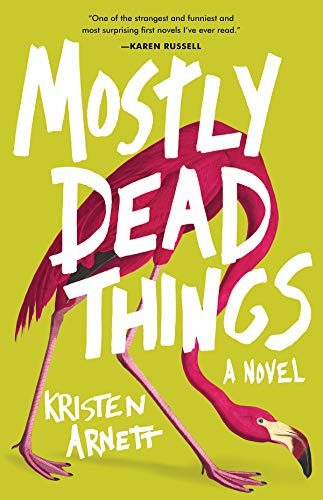 Release Date: June 4th
Why I love the cover: This one might be a bit controversial, but I personally LOVE it. It's so weird, and a bit disturbing, and I love the big bold letters of the title. This one might be my favorite on this list, I just think it's so striking and memorable.
Why I love the blurb: This is such a me book. It's really weird, which we love here. It's a story about Jessa (unfortunately, not Jem and Tessa from TID), who walks into her family's taxidermy shop only to find her father has committed suicide in it. In the aftermath of this, her family starts to unravel in different ways. It's a family story, it's weird and it's set in Florida – I think it's gonna be amazing.
3. Wild and Crooked by Leah Tomas
Release Date: June 4th
Why I love the cover: My friends, I am a simple girl – I see a cover that reminds me of The Raven cycle, I add it. But seriously, I love the flowers and the car (it might as well be a Camaro) and just the feel of this cover.
Why I love the blurb: This is a YA set in a small town (my fave thing ever!!) and it's about Kalyn, whose father committed a brutal murder in his small hometown. Kalyn is forced to return to town, and uses a pseudonym so she would not be tied to her father's crime and judged solely on them. We also follow Gus, who is no stranger to labels, as he is constantly pitied by the town, either because he is disabled or because his father had been murdered. Kalyn and Gus form a friendship, until their family's past catch up with them. Sounds heartbreaking, but also really amazing and I think it's gonna be awesome.
4. Ordinary Girls by Blair Thornburgh
Release Date: June 4th
Why I love the cover: This cover is so NICE. It's soft and gentle, I love the color scheme and I feel like there's this mermaid-y vibe to it, and who am I to complain about that.
Why I love the blurb: This is a YA retelling of Sense and Sensibility! About two sisters who don't really get along, until their family finance's hit a snag and they start getting closer!! I love sister stories the most and I love Jane Austen and I love heartfelt YA, so this ticks all the boxes.
5. A Philosophy of Ruin by Nicholas Mancusi
Release Date: June 18th
Why I love the cover: I love abstract covers and I feel like this one is so pretty to just look at.
Why I love the blurb: Said to be for fans of Breaking Bad, this story follows a philosophy professor who gets tangled up into a drug trafficking business, after his family suffers a tragedy and he has no way to help them. It's said to "rumble with nihilism" which we stan, but I also think it's gonna be a really deep and philosophical look at human nature and destiny and I just cannot wait to dig into this one.
And those are this month's pretty new releases. Let me know your favorite one and as always, let me know about pretty books you found recently!
xxx
Come hang out with me:
Follow me on Bloglovin' | Goodreads |Facebook| Tumblr| Twitter | Instagram|Pinterest
*Vectors graphics designed by Freepik