YAY readathons! I love readathons, but due to the hectic nature of this year and my life in general, I do not get to participate in them frequently. However, when I saw that The Book Junkie Trials were a thing, I knew I had to join! And I am!
What is it?
The Book Junkie Trials are a month-long readathon hosted by the lovely Rachael Marie (aka Book Junkie) during the month of July. The concept is really cool: basically, there is a queendom and there are four different groups that compete for The Bookie Grail: The Magi, The Scribes, The Outlaws and The Bards! Each time has a unique set of four challenges they have to complete, and then one common one, which is to read the book group of the readathon.
There's even a personality test you can take and you will get sorted into your group (or you can choose a group you like). It looks super fun and I literally cannot wait for it to start!
All the information can be found in the announcement video HERE, and in the Google Drive HERE, and also you can follow The Book Junkie Trials on Twitter!
So I took the test and I am officially…
So I am on team #Outlaw! I think it's so cool that you get an actual quiz that sorts you PLUS I really love the challenges for the Outlaws and generally being an outlaw is such a power move, so I am super excited! Here's the outlaw map:
So there are 5 challenges and you are supposed to do them in order, which is a fun little challenge, so let's talk about my TBR!
We start at
Crimson Peaks

and the prompt is to: Reread an Old Favorite
My pick:
Percy Jackson and the Lightning Thief
I've been meaning to reread the Percy Jackson series for a while, and this is a great way to get me started on it!
From there we move to Queendom Stone and the prompt is to: Read a Book Featuring Royalty
My pick:
Prince Charming by Rachel Hawkins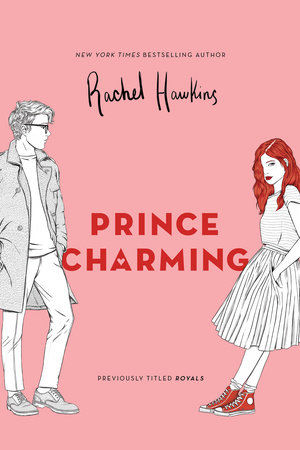 This book was originally called Royals, but it got reprinted and renamed and it has this new pretty swanky new cover. This book is about Daisy, whose older sister is getting married to the Crown Prince of Scotland and she needs to become more "royal" material, so the prince's younger brother Miles gets tasked with teaching her the ropes. It sounds cute and fluffy and I need something cute and fluffy.
Onward to
The Forgotten Forests

and the prompt is: Read the next in the series
My pick:
Red Seas Under Red Skies by Scott Lynch
This will be my big project of the month – I adored The Lies of Locke Lamora and it's atrocious that I still haven't read the sequel. It's one of the best books I've ever read and I've been meaning to continue since forever and it's finally time. Cannot wait. The Lies of Locke Lamora has a fantastic cast of characters, a really interesting setup and such a great story. I cannot wait to continue.
From there we go to
The Weeping Falls

and the prompt says to: Read a tear-jerker
My pick:
My Grandmother Asked Me To Tell You She's Sorry by Fredrik Backman
I am someone who really rarely cries to books (or just in life in general) so I have no idea if this will actually be a true tear-jerker, but I love Backman and his books just get me in my feelings. This book's premise sounds really moving and heartfelt – it's about a young girl whose grandmother dies and she goes on a mission to apologize to all the people her grandmother wanted to apologize to. Sounds like it's gonna hurt in a good way.
Finally, we reach
The Bookie Grail

– Read the group book pick which is…
Stardust by Neil Gaiman
I actually recently got a copy of this, so this could not have come at a better time. I remember liking the movie back in the day, but more importantly, last summer I read American Gods and I loved Gaiman's writing SO MUCH. So I am excited to read this one and discuss with other people.
And that's my TBR for The Book Junkie Trials! I am still unsure whether or not I'll try to complete any other challenges, but I might!
Another note: each team has an ability and a weakness which sort of plays into the reading plans. For the outlaws, our ability is that we are able to read any book off of someone else's TBR and it need not match any of the prompts, which will be cool if I am not enjoying something I started or if I have trouble with a specific challenge.
Our weakness is that we have to "catch up" on reading by doing a 24-hour readathon! I've always wanted to try to do a 24-hour readathon, so I am gonna do and host one in July, so all of you can join me if you want!
However, these books are my priority and ones I am hoping to finish! And now I am super excited for July!
Hope you enjoyed this announcement and I hope you like my TBR and the concept of this readathon! I would love to know if you'll be joining the readathon and what team you'll be on – let me know!
xxx
Come hang out with me:
Follow me on Bloglovin' | Goodreads |Facebook| Tumblr| Twitter | Instagram|Pinterest
*Vectors graphics designed by Freepik