The old saying goes "Don't judge a book by the cover" but that's what we are here to do. 
Every month, I pick some books with pretty covers and then I show the ones with best blurbs to you.
Basically, I spend a lot of time on Netgalley, and scouring the Internet for new releases, so I am gonna do that, but pick the books based on their cover. Then I'll read the blurbs and pick my favorites and then I share them with all of you!
So the basic formula of this post is pretty books meets new releases I am excited about. 
July is my favorite month because it's just so chill! And there are many beautiful covers coming our way, so I am excited to share this month's picks with you all.
1. The Gifted School by Bruce Holsinger
Release Date: July 2nd
Why I love the cover: This would not be a post by me if there wasn't a suburban-looking cover in it. I really love the look and feel of this, especially the sort of hazy colors and focus, which promises a lot of summer suburban drama and I LOVE IT.
Why I love the blurb: Like I said, this wouldn't be a post by yours truly if there wasn't at least one book about privileged people losing their minds in the suburbia. This is a story about a group of friends and their parents, who start to unravel after a school for gifted children opens up in their neighborhood and rivalries start to thrive. This is the perfect me book and I cannot wait to get my hands on this one and see how awful these people are.
2. A Prayer for Travelers by Ruchika Tomar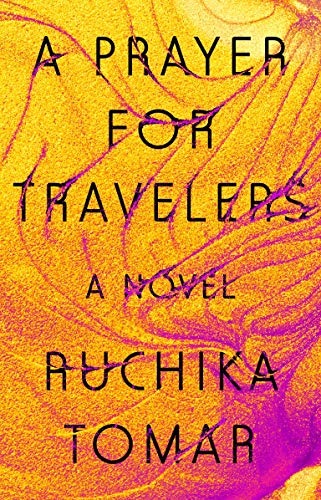 Release Date: June 18th
Why I love the cover: This looks shiny and splendid! Yellow and purple is one of my fave color combos and this just looks so wonderful. It looks like gold mixed with purple paint and I just love the look of it, especially how the title gets wonky where the lines touch it.
Why I love the blurb: The story is told in interwoven, altering chapters and it follows two people – Cale, who has to start waitressing after her grandfather gets sick, and Penélope, one of her old classmates whom she reconnects with when they met again in the diner Cale works in. However, an act of violence shatters their world and Penélope goes missing, Cale sets out across the desert to find her. This sounds like it's going to be really moving and powerful, and I am super excited to get to it.
3. Family of Origin by CJ Hauser
Release Date: July 16th 
Why I love the cover: This one is kind of strange, but that's why I love it. I really love the color scheme and the illustration is so pretty. There's something uplifting but at the same time kind of dark about this one, and I really love it. Also, the cover really works with the blurb and the context of the story, which I always love.
Why I love the blurb: This is a book about estranged siblings who finally come together after their father dies, and tried to tackle the thing that separated them years ago and lead to their family becoming so estranged. Plus, the people who their father worked with are the so-called Reversalists, who believe that by finding a mysterious duck they will prove that evolution is running backwards. It's the perfect mix of quirky and family, so I am really looking forward to picking this one up.
4. Desdemona and the Deep by C.S.E. Cooney
Release Date: July 23rd
Why I love the cover: Look at this! It's so stunning! I love the magical woods vibe we get from this and I love the colors and how glorious this looks. Highly appreciate this cover.
Why I love the blurb: Tor.com is quickly becoming the ONLY publisher we can trust to publish QUALITY books. This is a short novel about a girl who has to go underground to a mysterious goblin kingdom (I don't know if that is the ruling structure, but you get my point) to retrieve an object her father promised someone. It sounds like a wonderful, unique Fantasy and I am really excited to pick this one up!
5. Gods of Jade and Shadow by Silvia Moreno-Garcia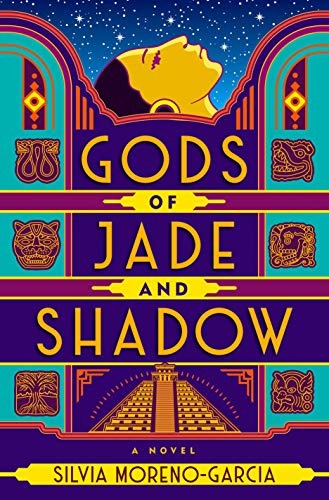 Release Date: July 23rd
Why I love the cover: I am obsessed! I love the color scheme on this and I am simply in love with the illustration and the overall vibe. Also, the symmetry of this cover is really satisfying to look at. This is such a powerful cover.
Why I love the blurb: This book is set in Mexico in the Jazz Age, and it follows Casiopea who accidentally releases the Mayan God of Death when cleaning a room in her grandfather's house. The god asks her help in recovering the throne from his brother, and in turn, he will make all of her dreams come through. So she sets off on an adventure across Mexico and to the Mayan underworld. This sounds epic and wonderful and unique, and I cannot wait to pick it up.
And those are this month's pretty new releases. Let me know your favorite one and as always, let me know about pretty books you found recently!
xxx
Come hang out with me:
Follow me on Bloglovin' | Goodreads |Facebook| Tumblr| Twitter | Instagram|Pinterest
*Vectors graphics designed by Freepik