It's the middle of the year! How can it be? Can time just stop and slow for a bit? Please and thank you. 
It's finally time to do the Mid-Year Book Freak Out tag and I am so excited! This is one of my favorite posts to write every year and I always get excited for it. It's also great because my reading year is kind of sucky, so hopefully, this will make me excited about books again. Here are the previous two tags I did, one in 2017 and one in 2018!
This tag was originally created by ReadLikeWildfire and Earl Grey Books. I was tagged by no one but I am so excited to do this, so let's jump into the questions!
1. Best Book You've Read so Far in 2019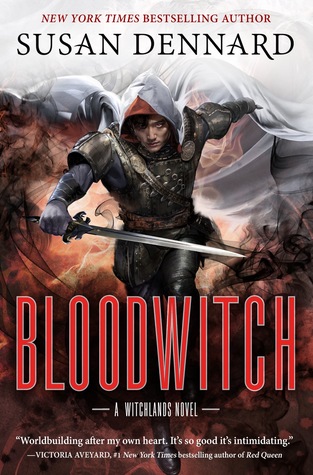 This wasn't that hard to choose – I've only had like 3 five star reads this year and my favorite one was by far Bloodwitch by Susan Dennard. It's hands down the best YA Fantasy I've ever read, or just Fantasy in general. On top of that, this is a fantastic book in terms of character development and world-building, and I am so glad that this was even better than I've built it up in my head. If you want to read my full review, you can find it HERE!
 2. Best Sequel You've Read so Far This Year
I haven't read so many sequels, because I am the worst but (excluding Bloodwitch) the best one was The Wicked King. I really loved this because it was, in my opinion, a lot better than the first book and it really took the characters to a whole new level and did some amazing things with their dynamic, so I am really excited to see how this series now wraps up. And what happens to Cardan that he deserves it??? It's going to be a wild ride. You can read my review for The Wicked King HERE.
3. New Release You Haven't Read Yet, But Really Want To
There are so many options! I'd say my top one is The Devouring Gray – I really want to get to this one because it has so many Raven Cycle vibes and I have so many expectations that it will be my new fave with maladapted teens in the woods.
4. Most Anticipated Release for the Second Half of the Year
I have a whole post about this HERE, but my top one is by far Call Down the Hawk by Maggie Stiefvater! I've missed Ronan so much and to get a book about him is literally a dream come through! Plus, we get to see Adam. And Maggie is actually writing two female characters??? I have such high hopes and I cannot wait to have this in my arms.
5. Biggest Disappointment of the Year
I am so sad to say this, but it's, unfortunately, Once & Future by Amy Rose Capetta and Cori McCarthy. I had such high hopes for this novel, I even got a special edition of it, but it was a really messy execution of a really great premise and it still makes me sad to think how awesome this could have been but how it sort of fell apart for me. I need my great Arthurian legend retelling, please and thank you.  You can find my review for Once & Future HERE.
6. Biggest Surprise
Burial Rites by Hannah Kent really took me by surprise, simply because I have such hard time with historical fiction, and I really loved this one. It was such a moving and introspective read, with a wonderful main character and I loved the setting and the ideas this book explored. I could not recommend it more. You can find my full review HERE.
7. Favorite New Author (Debut or New to You)
I am gonna cheat and say one debut AND two new to me because I am a rebel. For debut, it's by far Casey McQuiston! Not only did I love Red, White and Royal Blue to the point of obsession, but I really love Casey's online presence and I just think she's super smart and wonderful in general.
And my new to me authors are Donna Tartt and Hannah Kent. Both of these authors are so talented and I loved their writing and I cannot wait to read more from them soon!
8. Newest Fictional Crush
No answer here! I find that I just don't get book crushes anymore? It's weird, but there it is.
9. Newest Favorite Character
Basically, everyone from Red, White and Royal Blue, but especially Alex Claremont-Diaz. I love how spunky and outspoken and loud Alex is. I am much more like Henry in terms of temperament and personality, but I love the boisterous Griffyndor energy Alex has, and I think he deserves the world. I just loved everything about him and he is such a compelling main character. I even made a reading list inspired by him, which you can find HERE. And my review for Red, White and Royal Blue is HERE.
10. & 11. Book That Made You Cry and Book That Made You Happy
I am combining these two because it's surprisingly the same book! Famous in a Small Town by Emma Mills is one of my favorite reads of the year and I just loved it so much. There's a devastating scene in here that made me cry, but the book overall is such a happy, warm hug, like any Emma Mills, and I loved the characters and the whole vibe of this novel so much. If I still haven't convinced you to pick up Emma Mills, please do so, and thank me later! You can find my review HERE.
12. Most Beautiful Book You've Bought or Received This Year
Tough choice for someone who lives for pretty books but I have to say it's probably my newest addition – Sorcery of Thorns in this gorgeous purple Owlcrate edition is definitely one of the faves of the year. I love it, it's just so STUNNING!
13. What Book Do You Need to Read by the End of the Year? 
There are so many! The one I NEED to read ASAP is Gideon the Ninth – I am finally going to read it in July and I am just PURE excitement. You have no clue how pumped I am to get to this one.
14. Favorite Book Community Member
This is so hard??? I am honestly so beyond thankful for every single person who has ever commented or interacted with me online in any shape or form. I am so lucky to have so many wonderful people around me in the community and I am forever grateful to you all for following this blog and my ramblings in general! Thank you and I love you, truly.
And that's it for this year's tag! I'd love to hear your thoughts and I'd love to hear about your reading year so far, so sound off in the comments! Happy reading to everyone!
xxx
Come hang out with me:
Follow me on Bloglovin' | Goodreads |Facebook| Tumblr| Twitter | Instagram|Pinterest
*Vectors graphics designed by Freepik