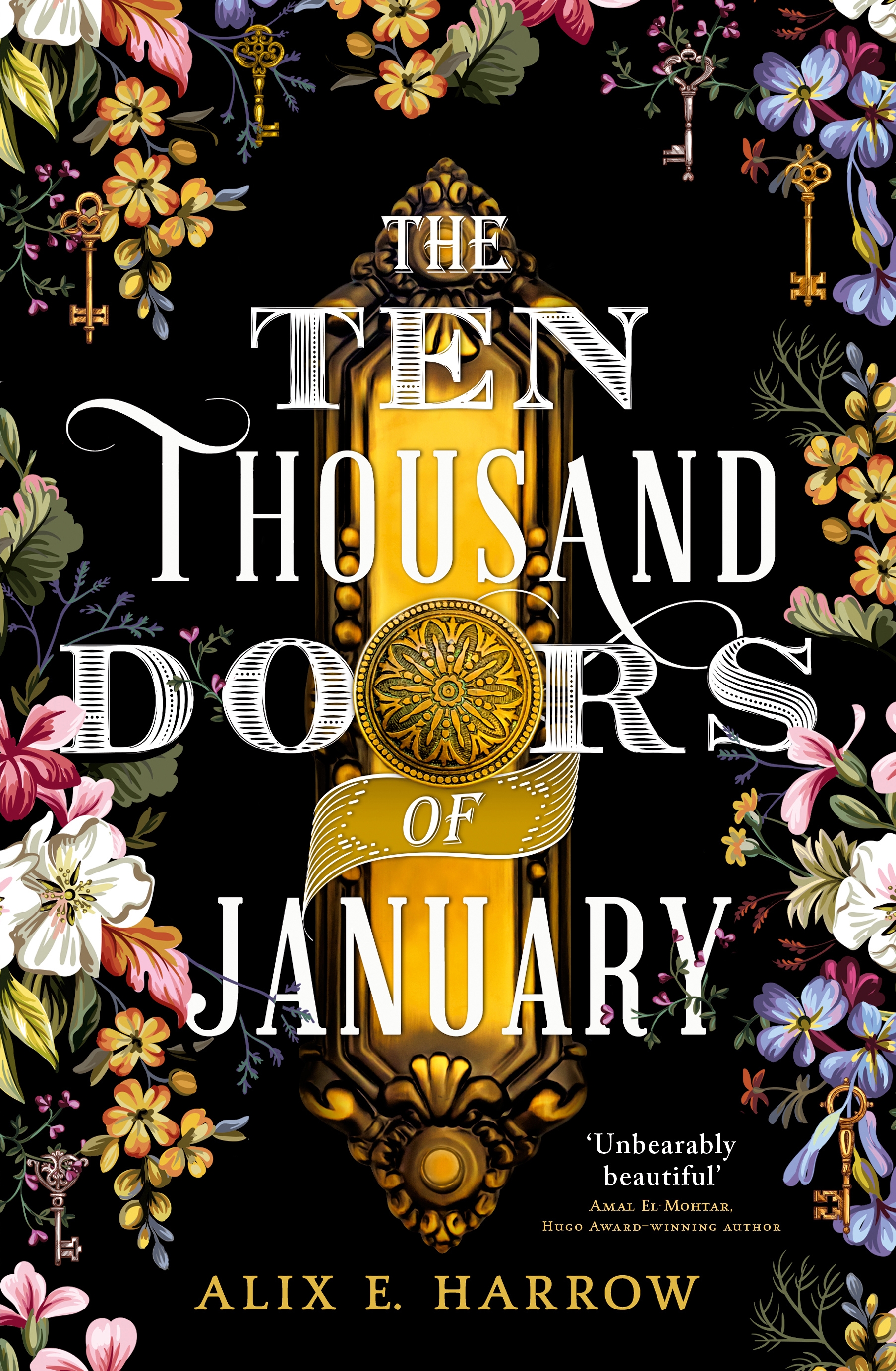 I remember seeing the proofs for this book online and thinking, this is the most gorgeous review copy I have ever seen. And then I saw that this was about a girl who opens Doors (capital D) to another world, and I was completely sold. I requested a review copy from Orbit UK, thinking they would never send it to me and I never heard back from them, so I was waiting for the book to appear on Edelweiss so I could read it. BUT. The book showed up to my door, with the most gorgeous review copy presentation and we decided to stan Orbit UK forever. Go see it on my Instagram (and then follow me so we can be friends). So I am glad to report that this book did not disappoint and is, in fact, one of the best-written debuts I ever read.
This is about a girl named January, who finds a mysterious Door that leads to another world at the age of seven, and about a book that tells the story about such doors.
You know the feeling when you open a book and read the first sentence and just know that that is going to be one of the most gorgeously written books you ever read? That's the experience I had with The Ten Thousand Doors of January. It's seriously one of the best-written debuts I have ever read and I am so glad I got to experience it. The prose is just descriptive and gorgeous and it's so transporting. From the very first page, I was instantly transported to January's world and I stayed firmly in it by the end of the book. Alix E. Harrow writes in a way that makes you appreciate writing as a craft, and she has a way of making a sentence really impactful but also really beautiful. I have a lot of this book tabbed up, simply because the way Harrow writes about life and stories and love is so beautiful. I leave you with some of the quotes, so you can see what I mean:
"I should have know: destiny is a pretty story we tell ourselves. Lurking beneath it there are only people, and the terrible choices we make."

"I hope you will find the cracks in the world and wedge them wider, so the light of other suns shines through; I hope you will keep the world unruly, messy, full of strange magics; I hope you will run through every open Door and tell stories when you return."

"Those of you who are more than casually familiar with books – those of you who spend your free afternoons in fusty bookshops, who offer furtive, kindly strokes along the spines of familiar titles – understand that page-riffling is an essential element in the process of introducing oneself to a new book."
You know those books that celebrate myths and stories and books in the best way? This is one of them. In The Ten Thousand Doors of January, books become doors to another world and those other worlds become real places that exist all over the world, places you can go to and inhabit, where magic exists, and Harrow brings them to your fingertips and makes them feel weird. There is a sense of deja vu in this book, this story feels familiar, because it encompasses all the other books I ever read. It's like stepping back into a story I haven't visited in a while, but I was so glad to be back.
I really enjoyed the way this story is structured. I think it was a really good decision for the story, and made it more exciting and impactful. There are two parallel storylines here and I think they come together really nicely, and I love the decision to tell them separately. I also love that we see January as she grows up, at different points in time, before we land on here at 17. I really enjoyed seeing that progression and also seeing how all these threads of this story came together. I think it's another testament to how good Alix E. Harrow's writing is.
This is entirely a me thing, so take it with a grain of salt. For me personally, the books I adore are the ones where I get attached to the characters, where I understand them completely and feel for them. And beautiful, gorgeous, descriptive writing is something I always objectively appreciate, but slow and descriptive books work for me only if the descriptiveness is turned inward, towards the characters' thoughts and feelings. This wasn't the case with this book. This book is slow and descriptive outwardly, towards the setting and the story itself, and I recognize the merit of it, I just can't love the book completely. The characters in here aren't underdeveloped, it's just that the book rarely turns inwardly, so they feel distant, and I could not complete attach myself. And I found bits of this really predictable, but the narrative treats them as these big revelations which I thought was a bit unnecessary.
I could not recommend this book more. Alix E. Harrow is a writer you have to keep on the radar, and this book is one you have to check out in September. If you love stories and books and other worlds and gorgeous writing, you will enjoy this novel immensely. I know I did.
I'd love to hear from you – have you heard of this one before? Did you read it already or plan to? I would love to know, so let me know in the comments!
*I received this book from the publisher in exchange for an honest review. All opinions are my own. Thank you to Orbit UK for sending this my way.
xxx
Come hang out with me:
Follow me on Bloglovin' | Goodreads |Facebook| Tumblr| Twitter | Instagram|Pinterest