April was a month of many reads BUT one is reigning supreme and that is of course the chicken book. So let's chat about it first and then move on to the other ones that I maybe failed to mention elsewhere due to the chicken book consuming my life.

Brood by Jackie Polzin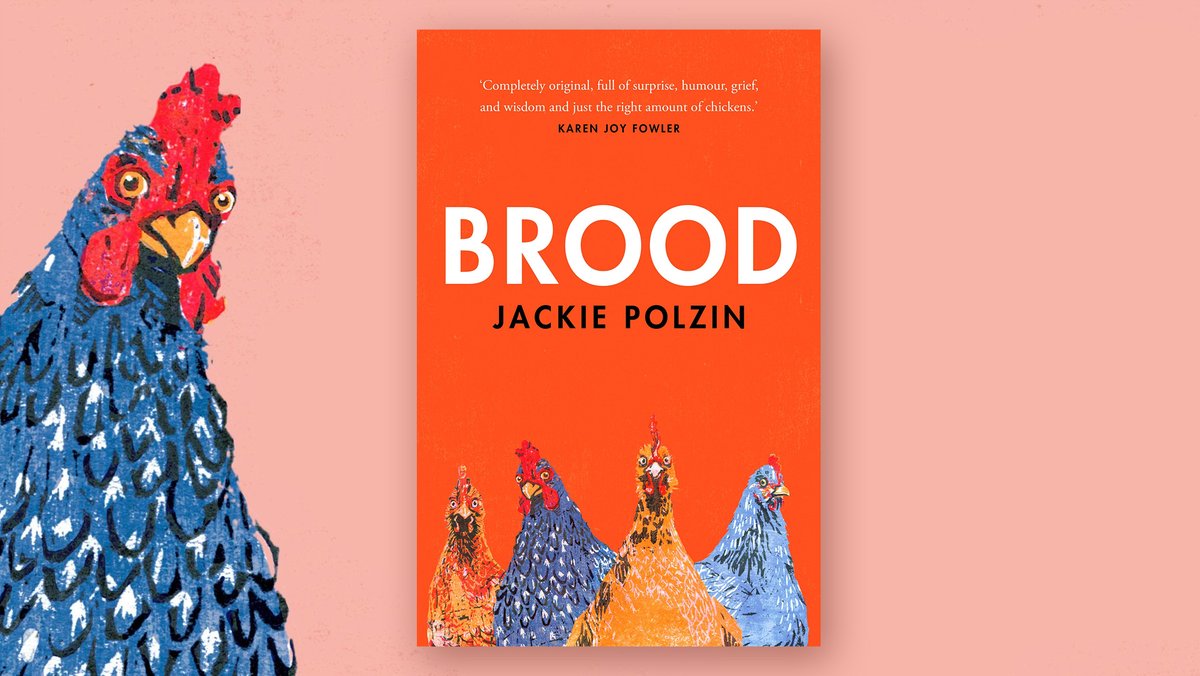 Rating: 5 stars
Summary: THE CHICKEN BOOK OF MY DREAMS

The crown jewel of the month, the best book of April and this year in general – Brood by Jackie Polzin! Or as it is known on Twitter – The Chicken Book. This was so good – Polzin is an empathetic writer who decided to explore grief and everyday anxieties through one woman's desire to take care of her chickens and keep them safe and I just think she is a genius for it. If you get any book on my recommendation, make it this one. More in-depth thoughts HERE. Or just follow me on Twitter and watch me freak out about it daily.
The Helm of Midnight by Marina J. Lostetter
Rating: 2.5 stars
Summary: Great concept, but tries to do too many things and ends up doing none of them right

This is a book that had a lot of potential and a fantastic premise of being a serial killer fantasy. However, I found it to be painfully slow and off-paced, with a confusing approach to world-building that is somehow doing too much and too little at the same time. There were too many elements that the author tried to incorporate, and then I think none of them were realized well. Finally, the book is not introspective enough, so I never really got anything from the characters. Overall, not one I would recommend, but you can check more in-depth thoughts on it HERE.
The Long Way to a Small, Angry Planet by Becky Chambers
Rating: 4 stars
Summary: Cozy Sci-Fi about found families

This is, so far, my favorite read off of my Backlist TBR! It is a lovely, quiet story about found families BUT IN SPACE. I absolutely adored every single character in here, and I think their relationships are so well developed and beautiful. It's a story about finding your place and your home and your people (even if they are not human). I loved every minute of it, even if it was terribly self-indulgent at times and could have used a bit more editing. It's like a really long cozy fanfic and it was GREAT. Can't wait to read more from the series and Becky Chambers in general.
No One is Talking About This by Patricia Lockwood
Rating: 4 stars
Summary: Fantastic look at the Internet and ourselves on it in contrast to real life grief and family struggles

Another Women's Prize read and one I really loved. The first part with its discussions of social media was pitch-perfect for me, and the second part was so sad but so well-written. My one grievance with this is that I do not think that the two parts were interwoven perfectly, but definitely still a book I highly recommend and one that I am still thinking about. You can read more of my thoughts HERE.
Percy Jackson and the Last Olympian by Rick Riordan
Rating: 4.5 stars
Summary: A series that stands up even after all these years

I have been rereading the Percy Jackson series and I am happy to report that it stands up for me, despite the fact that I have not read middle grade in so long and that I have not enjoyed YA fantasy in so long. BUT I had so much fun with this series and I love what Riordan did with the world and the mythology in it, plus I love the character. All around a great experience and I am excited to reread the Heroes of Olympus next.
Ghost Wall by Sarah Moss
Rating: 2 stars
Summary: I do not get it

This book has been recommended to me so much, and I was excited to read it, but it did absolutely nothing for me and I seriously do not get the hype around it. I think it's a book that is very language-focused, which is not something that I look for in books, so that might be why this did not work for me. Moreover, while there are really important themes that this book tries to cover, I just do not think that it had anything particularly interesting to say about them. For me personally, Sarah Moss seems to be an author that prioritizes language and style in her writing, and this is an accomplished novel in that sense, but I do not think this made for a particularly cohesive narrative that says anything interesting or novel, at least for me. I formally apologize to all my friends for that. Plus, it took me AGES to finish this really slim novel and I was bored at all times. 
The Underground Railroad by Colson Whitehead
Rating: 4 stars
Summary: A fantastic, structurally inventive novel with a meditative look at American history

This was a surprise since I do not like historical fiction at all, but I really loved this novel. I think it is so structurally inventive, and I think the premise and the use of the underground railroad as a device to tell this story was so intelligent. This was a difficult read, but I think Whitehead is a tremendous writer, and this book was on a sentence level so good. I loved the alternating chapters and the fact that we got a glimpse of every leg of Cora's journey both through her eyes and those of others. Definitely highly recommended, but you already knew that this book is brilliant.
Everyone Dies Famous in a Small Town by Bonnie-Sue Hitchcock
Rating: 2 stars
Summary: I can't remember a single story from here

This was a highly anticipated release for me, but sadly, it did not live up to that anticipation. While I did think that Hitchcock nailed the small-town charm and feeling that I always look for, I do not think that the stories did anything interesting beyond that. Never felt like the topics were discussed in any sort of novel or refreshing way, and the characters were largely one-dimensional and forgettable. I can barely remember a story from here and that's saying enough.
People We Meet on Vacation by Emily Henry
Rating: 3 stars
Summary: Travel bloggers should be prohibited by law

I am gonna save all my clipping remarks for the upcoming review, but this book made me so angry, because it's a great romance bogged down by the fact that the author decided to make the main character a travel blogger. Yuck. While I do think this one will be loved by many, it was not the book for me, and I would maybe recommend you skip it.
The Wicked and the Wallflower by Sarah MacLean
Rating: 4 stars
Summary: PURE FUN

This was so much fun! The two historical romances I see get recommended the most are this one and the Tessa Dare's books, and after I loved one of Tessa Dare's series, it was Sarah MacLean's turn. This was a great romance, with great banter between the main characters and a premise and plot that is kind of different than you expect in a good way. Definitely highly recommend it if you're in the market for a great time.
I would love to hear from you! Tell me your favorite read of April, I would LOVE to know. ALSO, let me know if the chicken book is now on your TBR (there is only one correct answer to that question).
In the meantime, happy reading
Come hang out with me:
Goodreads |Storygraph| Twitter | Instagram | Pinterest