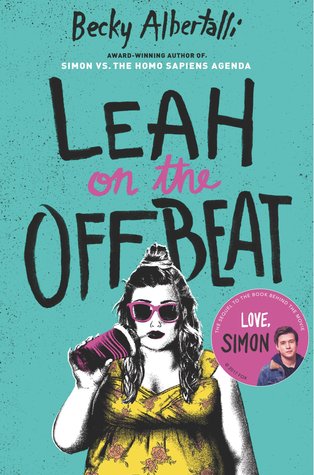 "I hate when assholes have talent. I want to live in a world where good people rule at everything and shitty people suck at everything." 
As you may or may not know, I was a huge fan of Simon vs. the Homo Sapiens Agenda (review can be found HERE), so I was naturally super pumped to get a sequel. Especially one that focused on Leah, who was one of my absolute favorite characters in the first one. And this book was… good enough.
Full disclosure: I will be talking about who Leah ends up with in the book. But I find it hard to believe that you still haven't been spoiled for that, so I think it should be fine.
To be honest, Leah is an asshole. She is just not a very likable character. But the thing is – I relate to her a lot. I was just like her when I was younger. I think Becky Albertalli nailed the balance between Leah being incredibly insecure, but at the same time trying so hard to look cool and aloof. I totally saw myself in that. Plus, I loved how we got her perspective on her friendship with Simon, since it's is so adorable.
Moreover, Leah isn't as well off as her friends, and I really like how that was portrayed in the book and how that theme was explored. And her relationship with her mom was wonderful. I loved seeing a single parent in a book who is amazing and has this great relationship with their child.
I think Abby and Leah are SUPER cute. I love the dynamic of this asshole personality (Leah) on one side, and then the complete opposite on the other. Abby is a wonderful character, with a larger than life attitude and this bubbly, kind personality. And I think the two of them worked really well together and it was all very adorable, in theory especially.
I do wish there was more time spent with them, more swoony moments, more build up to the relationship, instead of it all relying on one event in the past, which I am not even sure when in the timeline it actually happened. There was room here to do that. I felt like the plot had a lot of repetition, and the same things kept happening over and over again. Instead of we could have got more Abby and Leah moments, but oh well.
Does that header make me sound old? It definitely does. I am telling you, being 23 has made me an elderly.
Anyways, I really enjoyed being back with this group of teens as they embark college. I adore Simon and Bram and loved that we got a bit more of them as well. However, by far my fave character was Garett. I need a whole book about him. He is awesome. And I really liked seeing Nick in a completely different set up than in the first book. It was quite interesting.
There were things that did not work for me in here. The pacing was really off and jumbled and for me, the book lacked any sort of driving force. It felt like it never reached a culminating point and it was a lot of going around in circles, the same thing over and over again. Plus, I really could not wrap my head around how this book fit into the previous one, timeline wise. I could not really see how the two connected and while I get that that's nitpicking – it really bothered me.
Plus, the book felt a lot more cringey than the first one. With the Harry Potter references, and Simon and Bram's promposal and all of this stuff – it felt like it was trying too hard at times. I can't really put my finger on what exactly it was, but something was off for me a bit.
And honestly, this book gave the feeling of being written in a rush, without any preemptive thought. Becky's writing did not feel as strong or as solid as it did in Simon vs. Which wasn't to say it was bad, it was just not as good.
As you might remember, I wrote a post about the pressure put on diverse books, and this book inspired that post. Some readers talked about how in this one scene, Leah polices Abby's sexuality and says some really hurtful things. And I am quite torn on my feelings on that. I mostly attributed that to Leah being an asshole. And she is throughout the novel. But I think there was room there to do something great, to talk about how that kind of attitude can be toxic and spurs stereotypes about bisexual people and how you can be bisexual and attracted more to one gender than the others, but alas that beat was missed (sorry). It was a great opportunity that wasn't used to do something good with it. I am again linking an own voices review which is more valuable than my own opinion and can articulate what I am trying to say more properly.
I would still recommend this. It's great to see a f/f romance gain so much mainstream popularity in the book community and I really did enjoy Leah as a character. There were things in here that I thought could have been handled better, but overall, I enjoyed the book and thought it was good.
Final verdict: 3.5 stars
Let me know if you have read this one and how you felt about it. Did you like it more or less than the first one? I'd love to know!
xxx
Come hang out with me:
Follow me on Bloglovin' | Goodreads |Facebook| Tumblr| Twitter | Instagram|Pinterest
*Used Book Depository links are affiliate links which means I get a small commission if you buy a book through my link, which helps me out a lot!
*Vectors graphics designed by Freepik